With the session's final committee deadline exactly two weeks away, legislative leaders announced an agreement Tuesday on how much new money they plan to spend in 2023 and the framework for doing so.
Let the omnibus-bill fest begin!
During an afternoon briefing, Gov. Tim Walz, House Speaker Melissa Hortman (DFL-Brooklyn Park) and Senate President Bobby Joe Champion (DFL-Mpls) said the budget targets for the 2023 legislative session reflect a commitment to focus on the issues most important to Minnesotans.
"The era of gridlock is over," Walz said, while touting proposed investments in families, education and the workforce, along with what he said would be the largest tax cuts in the state's history.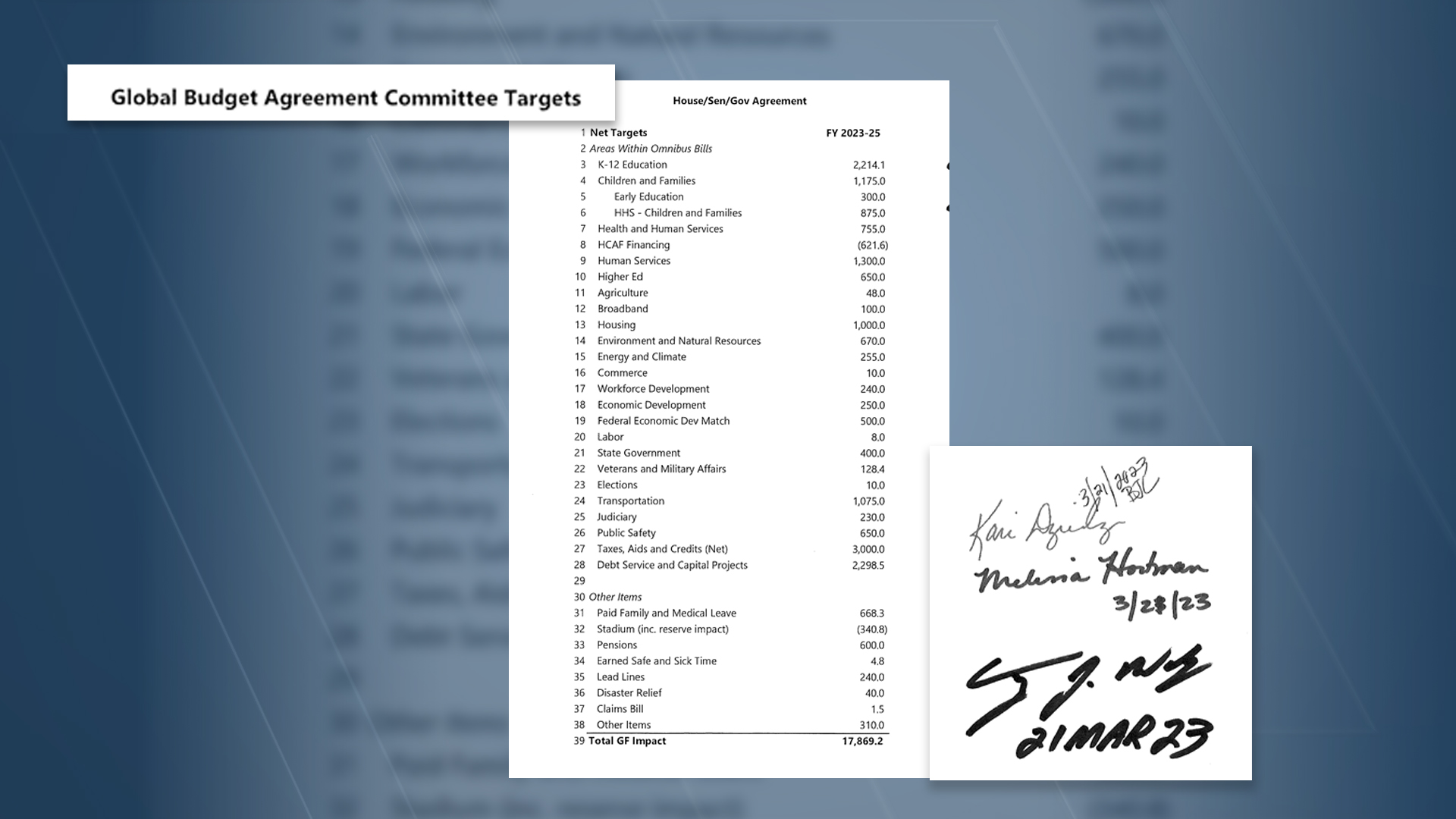 (Graphic by House Public Information Services)
Hortman said she is most excited about the budget's "historic" investment in education, while also hailing funding to address capital improvements, transportation, public safety, climate action and replacing lead water lines throughout the state.
"It is a delight to be here on Tuesday, March 21 announcing the joint revenue targets," she said. "This puts the legislative session back in the hands of all 201 legislators."
The targets would have a total impact of $17.8 billion on the state's General Fund.
The $65 billion budget proposal made by Walz in late January was the largest in the state's history. And that was before the 2023 February budget forecast predicted a $17.5 billion surplus, which was up more than $1 billion from the November forecast, although the total remained relatively flat after inflation was factored into both sides of the projection for the first time in many years.
Budget targets allow House and Senate committees to start with a common goal as they piece together their respective omnibus budget bills over the coming weeks. Differences between the bodies over how the appropriations are to be spent can then be worked out in conference committees.
The third committee deadline, by when committees must act favorably on major appropriation and finance bills, is at 5 p.m. on Tuesday, April 4. The Legislature must finish its work by May 22. The biennium begins July 1, 2023.
The targets for each area are:
taxes, aids and credits (net), $3 billion;
debt service and capital projects, $2.29 billion;
K-12 education, $2.21 billion;
human services, $1.3 billion;
children and families, $1.17 billion (HHS – children and families, $875 million; early education, $300 million);
transportation, $1.07 billion;
housing, $1 billion;
health and human services, $755 million;
environment and natural resources, $670 million;
paid family and medical leave, $668.3 million;
higher education, $650 million;
public safety, $650 million;
HCAF Financing ($621.6 million);
pensions, $600 million;
federal economic development match, $500 million;
state government, $400 million;
stadium, (inc. reserve impact) ($340.8 million);
other items, $310 million
energy and climate, $255 million;
economic development, $250 million;
workforce development, $240 million;
lead lines, $240 million;
judiciary, $230 million;
veterans and military affairs, $128.4 million;
broadband, $100 million;
agriculture, $48 million;
disaster relief, $40 million;
commerce, $10 million;
elections, $10 million;
labor, $8 million;
earned sick and safe time, $4.8 million; and
claims bill, $1.5 million.
House Minority Leader Lisa Demuth (R-Cold Spring) said the targets show the DFL is going on a "spending spree" rather than proposing a responsible budget that includes meaningful tax relief.
"Contrary to what Governor Walz might have you believe, this budget is clearly focused on growing government, not giving money back to Minnesotans," she said in a statement. "This isn't what Minnesotans have been asking for. Our historic surplus should have been the impetus for tax cuts, not massively expanding government and charging the taxpayer for it."
"Today's targets remind me of a runaway train putting Minnesotan's livelihoods at risk. Democrats' massive spending increases are on new bureaucracies, includes tax increases on every worker and business, and robs dedicated funds to help pay for an enormous expansion of state government," Senate Minority Leader Mark Johnson (R- East Grand Forks) said in a statement.  
"What we don't see is how a full elimination of the Social Security tax cut is possible, meaning Democrats who campaigned on eliminating the tax are breaking their promises to Minnesotans. With more than $17 billion in surplus, the paltry amount of tax relief being offered leaves Minnesotans who are already struggling with rising costs behind."